Harvey Guzzini Poliedra Table Lamp
Materials: Chrome wire frame. Chrome lampshade holder. Frosted round acrylic lampshade. Bakelite E27 socket.
Height: 32 cm / 12.59"
Width:  32  cm / 12.59"
Electricity: 1 bulb E27, 1 x 60 watt maximum, 110/220 volt.
Any type of light bulb can be used, not a specific one preferred.
Period: 1970s – Mid-Century Modern.
Designer: Felice Ragazzo in 1970.
Manufacturer: Design House, Harvey Guzzini, Recanati, Italy, today named iGuzzini. 
Other versions: The Harvey Guzzini Poliedra table or desk lamp exists in many versions, as you can see.
Project Year: 1970. Produced until 1974.
The chrome light bulb holder is the same model as used for the Faro table lamp, designed by the design team of the company. You can find it over here.
These lamps were released under the Design House label. It was used for a short time by Harvey Guzzini in the late 1960s, early 1970s. Also a store was opened in 1969 in the center of Milan under the name Harvey Guzzini-DH.
Felice Ragazzo
Designer and professor Felice Ragazzo was born 17 October 1944 in Orsara Bormida, Italy.
Between 1955 and 1960 Felice Ragazzo studied at the State Art School of Acqui Terme (Scuola Statale d'Arte). At the same period he gained his first artisan work experiences at the family business. In 1962 he obtained the "Master of Art for Wood and Furniture" diploma at the State Art Institute of Bologna (l'Istituto Statale d'Arte).
In 1970 he designed the lighting system Progetto Poliedra for DH, Design House of Harvey Guzzini.
Felice Ragazzo: One sunny morning, clear and serene air, it wasn't spring yet, I found myself reluctantly designing chandeliers.
Luckily it was always a failure. But before I let it go, an unexpected sketch came out of my pencil: a cusp of reticular tetrahedrons intertwined with a cluster of spotlights.
I knew instantly that the thing was big. It would become the "Progetto Poliedra" (Poliedra project), the first system-oriented lamp of the Guzzini Group.
A full biography can be found on the website of professor Felice Ragazzo.
iGuzzini 
iGuzzini illuminazione was established in June 1958 by Raimondo Guzzini (born 1928) under the name Harvey. Harvey is derived from the famous movie 'Harvey' with James Stuart and the invisible rabbit Harvey from 1950.
The initial production of enamelled copper objects was supplemented by decorative luminaires.
In the early sixties it became a family business when his 5 brothers joined the company. In 1962 Luigi Massoni was attracted to lead the design team. He worked for Fratelli Guzzini and Harvey Guzzini until 1976. Luigi Massoni designed many iconic lamps in that period.
The company still exists and changed the name in 1974 into iGuzzini and in 1981 to iGuzzini illuminazione.
Acrylic: often named by its commercial name: Perspex, Plexiglas, Crylux, Acrylite, Lucite, is a thermoplastic.
Links (external links open in a new window)
Vintageinfo
Many thanks to Frank from nullviernull raum+kommunikation for the beautiful pictures and enthusiasm. You can find his shop over here on Ebay.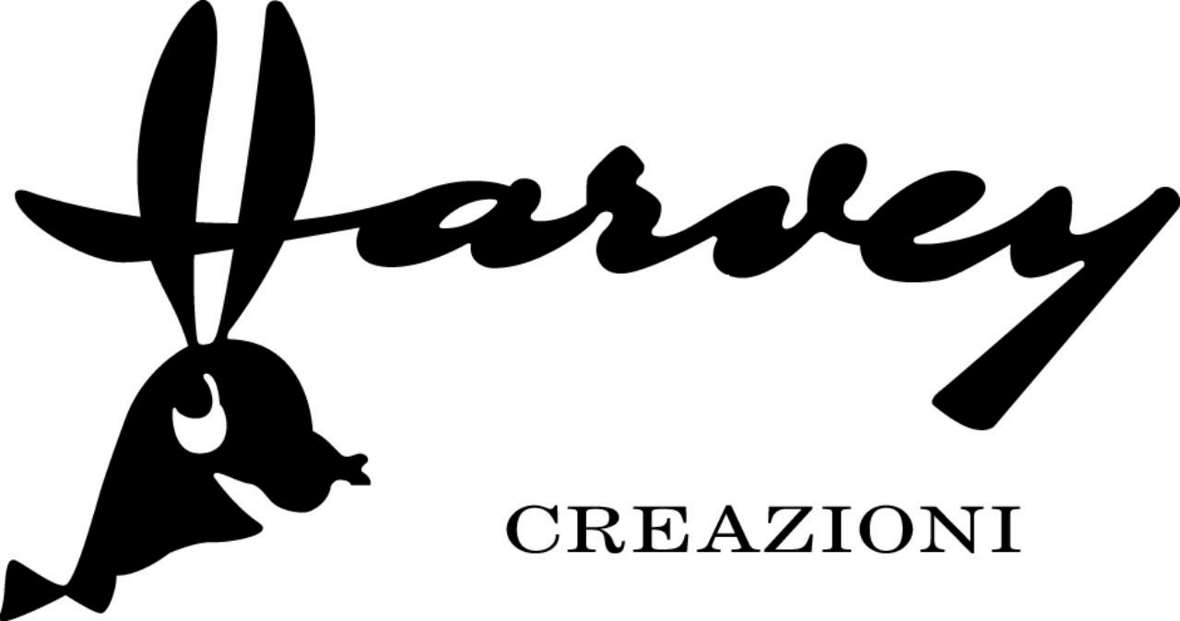 Logo used between 1959 and 1964. Inspired by the 1950 film "Harvey", starring James Stewart.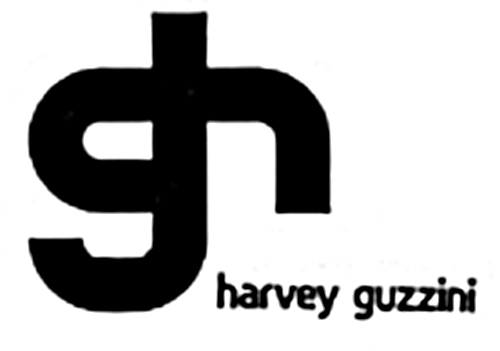 Logo used between 1965 and 1977.  This logo was designed by Luigi Massoni.
The architect Massoni was invited to work with Harvey as the company's art director, a move that gave further impetus to the idea of collaborating with designers.
Between 1967 and 1971, Ennio Lucini designed the catalogue for the DH (Design House) brand, under which lamps for home lighting were marketed.

Logo used from 1974 until today, designed by Advema G&R Associati. This logo embodied the company's entire output, which was marketed under other brands such as DH, Doma and Atelier.
It was during this period that the company began making technical products. Spot and flood lights in particular.