Maybe a prototype (pictures left), or at least a strange edition.
Notice the difference; a longer rod (63 cm – 24.80", the other one is 57 cm – 22.44" high, also not the 60 cm as it should be), a thicker and heavy foot, an old VLM-switch; not the Achille Castiglioni switch from 1968 as always, a nut on the bottom of the rod, and the top is not sealed and chromed but a has a plastic closing piece. They were acquired from the first owner who claimed that the lamps had always been like this and that there was nothing changed over the years.
A Harvey Guzzini Faro table lamp was used as a prop in the 2016 French-Belgian drama film Diamant Noir (Dark Inclusion – Dark or Black Diamond). Starring Niels Schneider, Hans-Peter Cloos and August Diehl.
A Harvey Guzzini Faro table lamp was used as a prop in the 2016 American heist thriller film Now You See Me 2. Starring Mark Ruffalo, Woody Harrelson, Jesse Eisenberg and Lizzy Caplan.
A Harvey Guzzini Faro table lamp was used as a prop in the 2021 Spanish action crime drama television series Sky Rojo, (S1E3). Starring Verónica Sánchez, Miguel Ángel Silvestre and Asier Etxeandia. Here together with a Strips table lamp from Quality System.
Harvey Guzzini Faro Table Lamps
Materials: Heavy round chromed iron base. Chrome rod. White acrylic round mushroom lampshade. Chrome lid on top. Some plastic and metal parts. Bakelite E14 sockets.
Height: 60 cm / 23.62"
Width: ∅ 33 cm / 12.99"
Base: ∅ 23 cm / 9.05"
Electricity: 2 light bulbs E14, 2 x 60 watt maximum, 110/220 volt.
Any type of light bulb can be used, but preferably a small round one. Long candlestick bulbs are visible.
Period: 1970s – Mid-Century Modern.
Designer: Harvey Guzzini, the design team of the company. Several design team names were used over the years.
Manufacturer: Harvey Guzzini, today named iGuzzini  illuminazione S.p.A via Mariano Guzzini, 37. 62019, Recanati, Italy.
Other versions: These Harvey Guzzini Faro table lamps were also made as a floor lamp and a pendant lamp. The pendant lamp exists with a cord or a rise & fall mechanism. Produced in red, orange, white, transparent brown…
Faro: Italian word for lighthouse.
iGuzzini 
iGuzzini illuminazione was established in June 1958 by Raimondo Guzzini (born 1928) under the name Harvey. Harvey is derived from the famous movie 'Harvey' with James Stuart and the invisible rabbit Harvey from 1950.
The initial production of enamelled copper objects was supplemented by decorative luminaires.
In the early sixties it became a family business when his 5 brothers joined the company.
In 1962 Luigi Massoni was attracted to lead the design team. He worked for Fratelli Guzzini and Harvey Guzzini until 1976. Luigi Massoni designed many iconic lamps in that period.
The company still exists and changed the name in 1974 into iGuzzini and in 1981 to iGuzzini illuminazione.
Acrylic: often named by its commercial name: Perspex, Plexiglas, Crylux, Acrylite, Lucite, is a thermoplastic.
Table Lamp
Project year: 1970
Year of production starting: 1970
Year of production ending: 1981
Commercial code: 2248
Period: 1970 – 1972
Commercial code: 4020
Period: 1973 – 1981
Prototypes
Prototypes of this lamp were made from 1967 until 1973.
Transparant smoked plastic version
Thick chrome base and a big Achille Castiglioni D-661 foot switch made by VLM Components.
Orange version of the Harvey Guzzini Faro table lamps
A Harvey Guzzini Faro table lamp was used as a prop in the 9th James Bond movie "The Man with the Golden Gun" from 1974 with Roger Moore (1927-2017), Christopher Lee (1922-2015) and Britt Ekland (born 1942). Here on the desk of Miss Moneypenny played by Lois Maxwell (1927-2007). 
Two orange Harvey Guzzini Faro table lamps were used as a prop in the French comedy film Le Jouet (The Toy) from 1976. Produced by Pierre Richard. Starring Pierre Richard and Michel Bouquet.
A Harvey Guzzini Faro table lamp was used as a prop in the 1974 British sitcom Man About The House. It appears in episode 5 of the second series. Starring Richard O'Sullivan, Paula Wilcox and Sally Thomsett.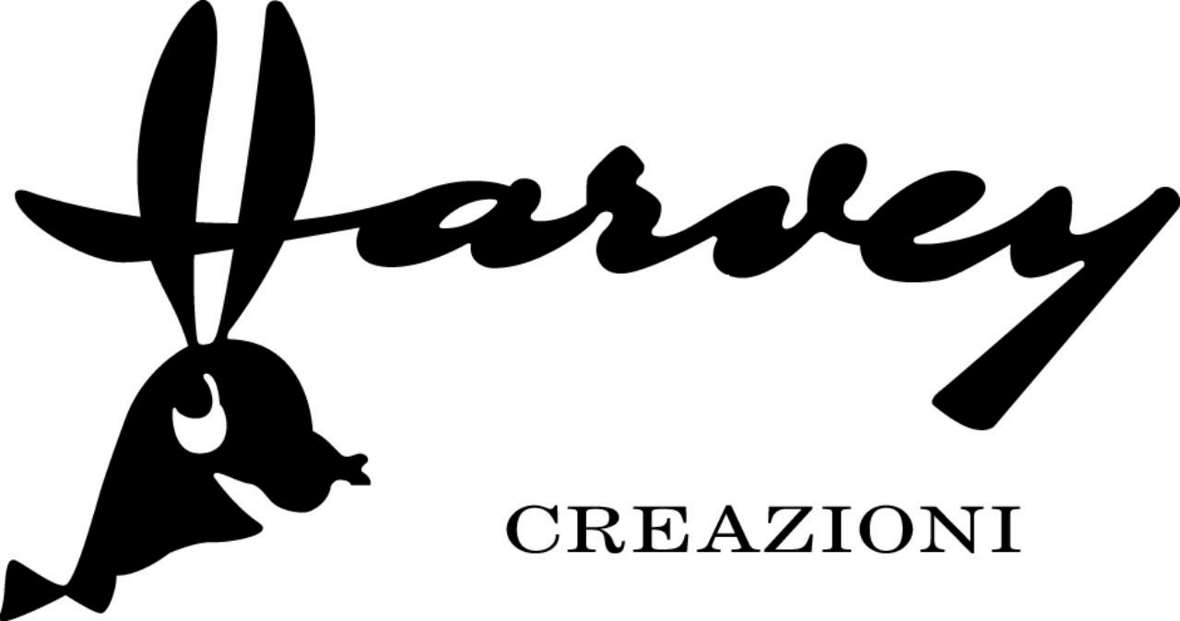 Logo used between 1959 and 1964. Inspired by the 1950 film "Harvey", starring James Stewart.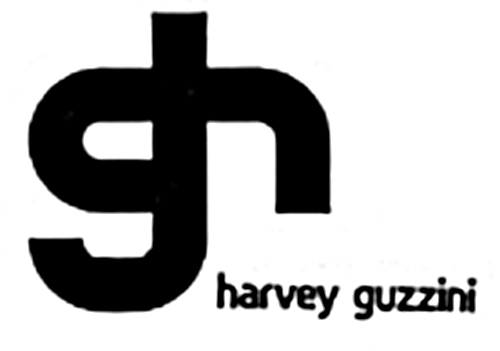 Logo used between 1965 and 1977.  This logo was designed by Luigi Massoni.
The architect Massoni was invited to work with Harvey as the company's art director, a move that gave further impetus to the idea of collaborating with designers.
Between 1967 and 1971, Ennio Lucini designed the catalogue tor the DH brand, under which lamps for home lighting were marketed.

Logo used from 1974 until today, designed by Advema G&R Associati. This logo embodied the company's entire output, which was marketed under other brands such as DH, Doma and Atelier.
It was during this period that the company began making technical products. Spot and flood lights in particular.