Gio Ponti Polsino table lamp and floor lamp. Together with the Disco pendant lamp, table lamp and floor lamp (Studio D.A.). The Toledo table lamp (Luigi Massoni), the Alvise pendant, table and floor lamp (Luigi Massoni).
Gio Ponti Polsino table lamp – Design House catalogue picture
Many thanks to Hans from Objeta for the beautiful pictures and enthusiasm.
Gio Ponti Polsino Table Lamp
Materials: Tubular lampshade made of curved black painted metal. Curved white acrylic lampshade. Chrome handle. Chrome socket head screws. White painted Bakelite E27 socket.
Height: 39 cm / 15.35"
Width: 22 x 17 cm / 8.66 x 6.69"
Electricity: 1 bulb E27, 1 x 60 watt maximum, 110/220 volt.
Any type of light bulb can be used, not a specific one preferred.
Period: 1960s – Mid-Century Modern.
Designer: Gio Ponti in 1967.
Manufacturer: Harvey Guzzini DH (Design House), via Mariano Guzzini, 37. 62019, Recanati, Italy. Today named iGuzzini. 
Other versions: The Gio Ponti Polsino table lamp exists in 3 sizes. The floor lamp is 115 cm / 45.27" high. The smaller version is 18 cm high. Made in several colours and also made with 2 acrylic shells.
Designed in 1967, in production until +- 1972. It no longer appears in the 1973 catalogue.
These lamps were released under the Design House label. It was used for a short time by Harvey Guzzini in the late 1960s, early 1970s.  Also a store was opened in 1969 in the center of Milan under the name Harvey Guzzini-DH.
Gio Ponti
Giovanni "Gio" Ponti (18 November 1891 – 16 September 1979), was an Italian architect, industrial designer, furniture designer, artist, teacher, writer and publisher.
Gio Ponti graduated with a degree in architecture in 1921 from the Politecnico di Milano (Polytechnic University of Milan). In the same year he married Giulia Vimercati. Together they had four children.
He started designing furniture and lighting in 1930 for the famous Italian glassmaker Fontana. Gio Ponti became the artistic director of the branch FontanaArte in 1933, together with Pietro Chiesa.
Gio Ponti designed lighting for Harvey Guzzini, Artemide, Lumi, Candle, Ugo Pollice, Arredoluce, Reggiani, Tato Italia, Richard Ginori Pittoria and Greco.
A complete biography can be found on his website and a shorter version on Wikipedia.
iGuzzini 
iGuzzini illuminazione was established in June 1958 by Raimondo Guzzini (born 1928) under the name Harvey.
Harvey is derived from the famous movie 'Harvey' with James Stuart and the invisible rabbit Harvey from 1950.
The initial production of enamelled copper objects was supplemented by decorative luminaires. In the early sixties it became a family business when his 5 brothers joined the company.
In 1962 Luigi Massoni was attracted to lead the design team. He worked for Fratelli Guzzini and Harvey Guzzini until 1976. Luigi Massoni designed many iconic lamps in that period.
The company still exists and changed the name in 1974 into iGuzzini and in 1981 to iGuzzini illuminazione.
Designers
Harvey Guzzini – iGuzzini – Design House designers are, among others: Giò Ponti, Luigi Massoni, Rodolfo Bonetto, Bruno Gecchelin, Renzo Piano, Norman Foster, Gae Aulenti, Piero Castiglioni, Jean-Michel Wilmotte, Mario Cucinella, Dean Skira, Renzo Piano, Massimo Iosa Ghini, Enzo Eusebi, Massimiliano e Doriana Fuksas, Jean-Marie Duthilleul, Maurici Ginès, Maurici Ginès, Roberto Pamio, Paul Andreau, Felice Ragazzo, Giuseppe De Goetzen, Franco Bresciani, Carlo Urbinati, Giuseppe Cormio, Ermanno Lampa, Sergio Brazzoli and of course Studio D.A. 
Acrylic
Often named by its commercial name: Perspex, Plexiglas, Crylux, Acrylite, Lucite, is a thermoplastic.
Links (external links open in a new window)
Vintageinfo
Gio Ponti Polsino Table Lamp – Small Version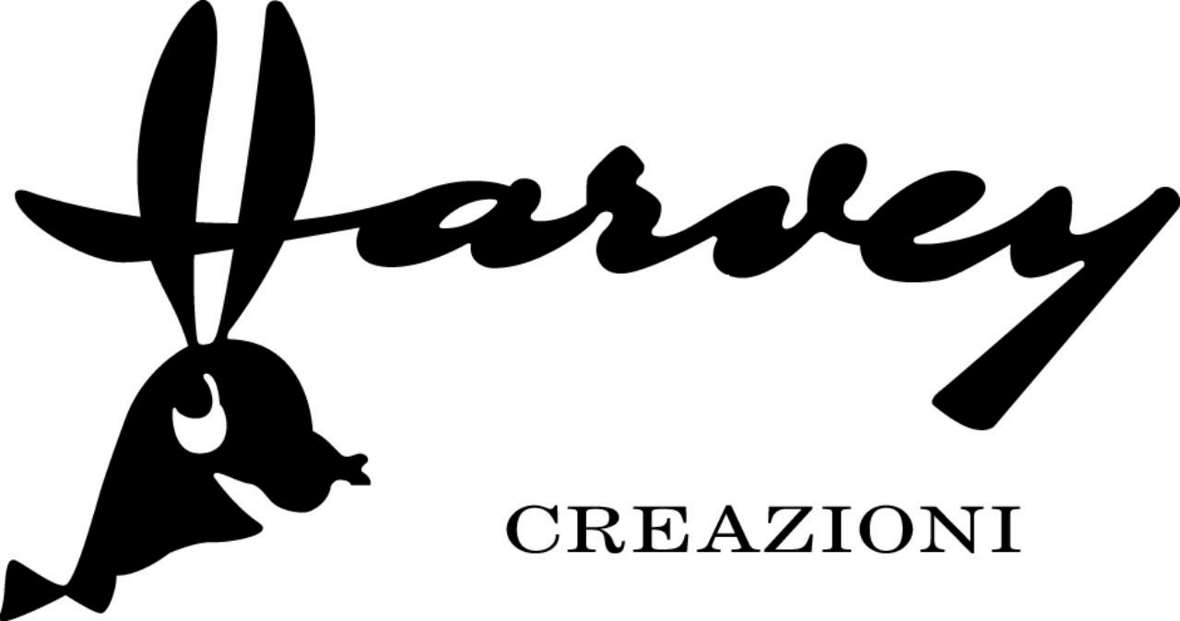 Logo used between 1959 and 1964. Inspired by the 1950 film "Harvey", starring James Stewart.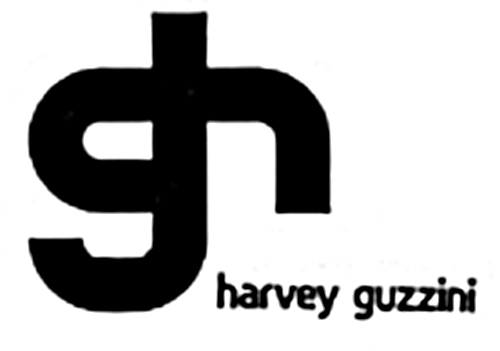 Logo used between 1965 and 1977.  This logo was designed by Luigi Massoni.
The architect Massoni was invited to work with Harvey as the company's art director, a move that gave further impetus to the idea of collaborating with designers.
Between 1967 and 1971, Ennio Lucini designed the catalogue for the DH (Design House) brand, under which lamps for home lighting were marketed.

Logo used from 1974 until today, designed by Advema G&R Associati. This logo embodied the company's entire output, which was marketed under other brands such as DH, Doma and Atelier.
It was during this period that the company began making technical products. Spot and flood lights in particular.