1950s Rispal advertisement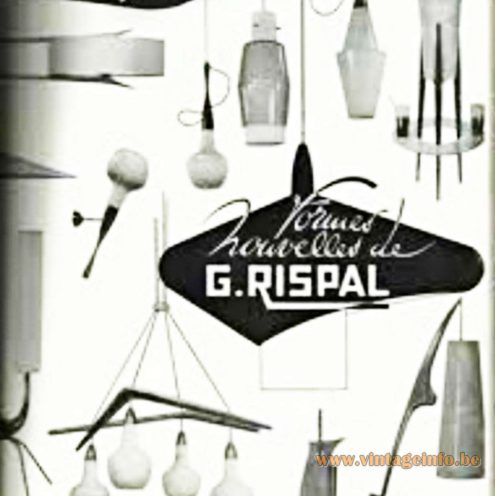 Rispal Pendant Lamp
Materials: Black painted metal rings and an early (white) folded plastic (Rhodoid).
Cord Length: 60 cm / 23.62"
Height: 25 cm / 9.84"
Width: 33 cm / 12.99"
Electricity: 1 bulb E27, 60 watt maximum, 110/220 volt.
Any type of light bulb can be used, but a white/opaque or frosted one is preferred.
Period: 1950s – 1960s – Mid-Century Modern.
Designer: Jean G. Rispal.
Manufacturer: These lamps are always attributed to the G. Rispal company in Paris, but there were several manufacturers of this kind of lamps. The Rispal factory in Paris is long gone and the building is demolished.
Other versions: Many sizes and forms. Made in plastic, paper and fabric.
These fragile pendant lights are always used to restore the famous "mante-religieuse" praying mantis floor lamp designed and made by Rispal. These shades are very often damaged or lost. As you can see on the left these lamps were produced with several different shades.
Jean Rispal (1928?) is a French lamp designer. He is famous for his original creations and biomorphic forms.
Both designer and producer, Jean G. Rispal is a designer out of category. He was inspired by Scandinavian design, Hans Arp (Jean Arp) and Charles Eames for its organic forms, He uses tropical wood and walnut to draw fluid and graceful curves together with braided wire and folded paper. His creations have entered the history of international design, including its "mante-religieuse" praying mantis floor lamp today considered one of the finest creations of French luminaries from the 1950s.
Many other company's copied his folded design.
In books:
Taschen 1000 lights, 1879-1959, page 418-419.
The Complete Designers Lights II, page 60.
Lamps the company produced before the 1950s
Famous floor lights designed and made by Rispal