A Max Sauze Cassiopeia pendant lamp appears in the French comedy film "Jo" with Louis de Funés from 1971. 
A big wall lamp, maker unknown, was used as a prop in the satirical comedy: Tout Le Monde Il Est Beau, Tout Le Monde Il Est Gentil, by and with Jean Yanne and made in 1972. (Everybody He Is Nice, Everybody He Is Beautiful (English title)

Many thanks to Tinneke for the beautiful pictures and the enthusiasm.
Max Sauze Uranus Table Lamp
Materials: Metal (iron) wire frame base.  Square curved anodised aluminium slats lampshade. Bakelite E14 socket.
Height: 18 cm / 7.08"
Width: 16 x 16 cm / 6.29 x 6.29"
Electricity: 1 bulb E14, 1 x 60 watt maximum, 110/220 volt.
Any type of light bulb can be used, not a specific one preferred.
Period: 1970s – Mid-Century Modern.
Designer: Max Sauze (born 1933).
Manufacturer: Max Sauze Studio. 105, Rue Paul Magallon. 13510 Éguilles, France.
Other versions: This Max Sauze Uranus table lamp exists only in this version. Mister Sauze designed many lamps in this style.
Max Sauze
Max Sauze was born in 1933 in Algeria. He first attended the Ecole des Beaux Arts in Algiers between 1953 and 1956, and then went on to study at the famous Ecole Camondo in Paris, France from 1956 until 1959.
During the 70s he quickly established his own recognisable style through the construction of bent aluminium strips on steel wire structures.
Today Ekilux, the company of his son Sebastien Sauze relaunched production of the iconic slatted aluminium lamps designed by his father at the end of the 60s. Ekilux is located in Provence in the South of France.
The Almeco Group France produces the lamps in Bandoxal (anodised aluminium).
The Max Sauze shop in the 1970s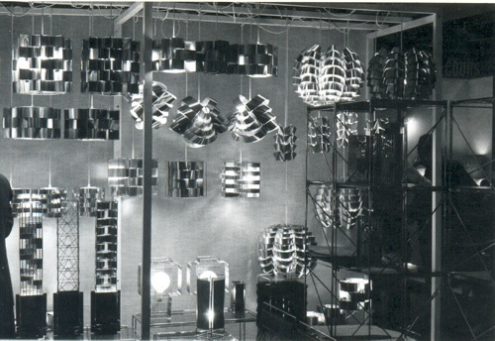 Ganymede table lamp used in a Scholl commercial in November 2017
Links (external links open in a new window)
Vintageinfo