Project year: 1976
Year of production starting: 1978
Year of production ending: 1992
Commercial code: 4044
Period: 1978 – 1982
45 x 62cm
Commercial code: 4048
Period: 1978 – 1992
37 x 51cm
Commercial code: 4050
Period: 1978 – 1980
45 x 62 cm – with a dimmer
Ceiling Lamps
Commercial code: 3076
Period: 1978 – 1982
37 x 23,5 cm
Commercial code: 3077
Period: 1978 – 1982
45 x 29cm
1 x E27 – 100 watt max
Floor Lamps
Commercial code: 4531
Period: 1978 – 1982
45 x 160 cm
2 x E27 – 2 x 60 watt max
The big edition (model 4044) was used as a prop in the 2014 film X-Men – Days Of Future Past, where Logan or Wolverine (played by Hugh Michael Jackman) returns from 2023 to 1973 to change history. Logan even took this two table lamps with him, because they were first produced in 1978.
iGuzzini Baobab Table Lamp
Materials: Conical white painted metal base which supports the white acrylic mushroom lampshade.
Height: 51 cm / 20.07"
Width: ∅ 37 cm / 14.56"
Electricity: 2 bulbs E27, 2 x 60 watt maximum, 110/220 volt.
Any type of light bulb can be used, but preferably 2 white/frosted bulbs.
Period: 1970s, 1980s – Mid-Century Modern.
Designer: The design team of iGuzzini.
Manufacturer: iGuzzini illuminazione S.p.A via Mariano Guzzini, 37. 62019, Recanati, Italy.
Other versions: Made in white, black and ochre, a floor lamp and a ceiling lamp. Exist also in a big version, model 4044 (45 x 62 cm – 17.71 x 24.40"); this small version was in production until 1992. The big one, model 4044 only from 1978 until 1982. Probably also made in other colours, but rare.
iGuzzini 
iGuzzini illuminazione was established in 1959 by Raimondo Guzzini under the name Harvey Creazioni. Harvey is derived from the famous movie 'Harvey' with James Stuart and the invisible rabbit Harvey from 1950.
The initial production of enameled copper objects was supplemented by decorative luminaires.
In the early sixties it became a family business when his 5 brothers joined the company. In 1962 Luigi Massoni was attracted to lead the design team. He worked for Fratelli Guzzini and Harvey Guzzini until 1976. Luigi Massoni designed many iconic lamps in that period.
The company still exists and changed the name in 1974 into iGuzzini and in 1981 to iGuzzini illuminazione.
Acrylic: often named by its commercial name: Perspex, Plexiglas, Crylux, Acrylite, Lucite, is a thermoplastic.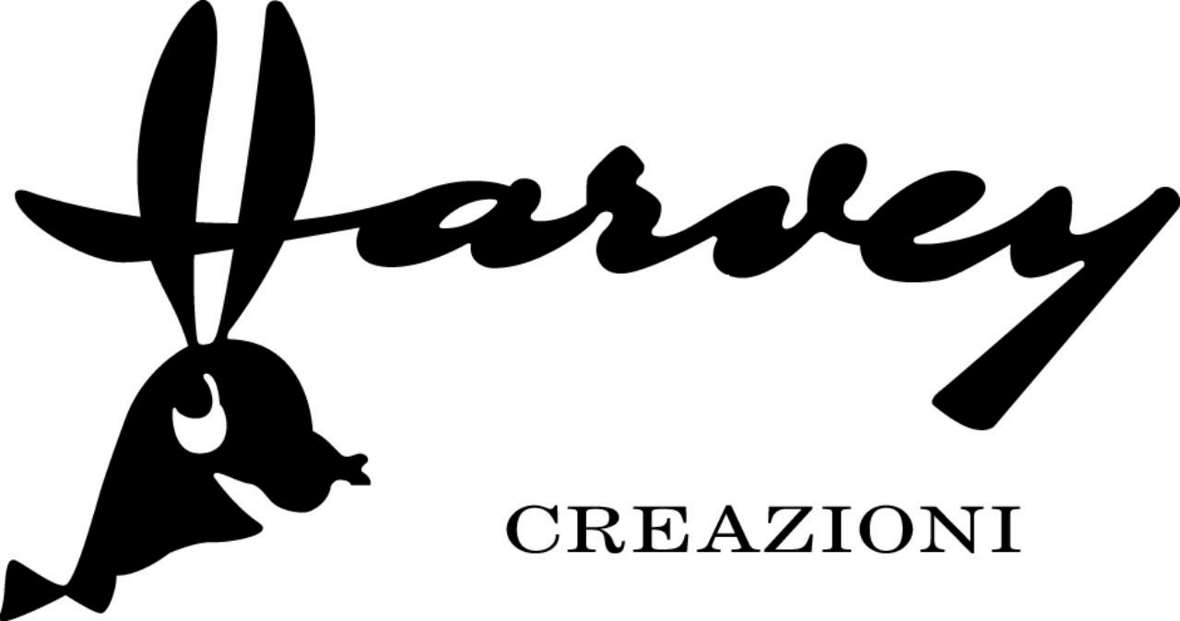 Logo used between 1959 and 1964. Inspired by the 1950 film "Harvey", starring James Stewart.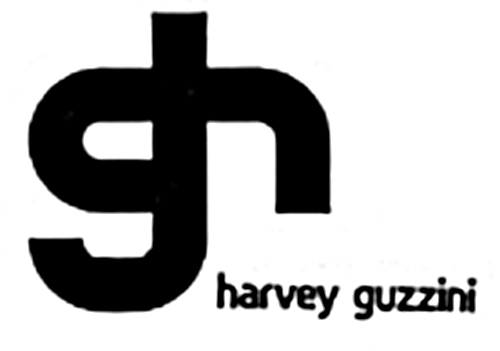 Logo used between 1965 and 1977.  This logo was designed by Luigi Massoni.
The architect Massoni was invited to work with Harvey as the company's art director, a move that gave further impetus to the idea of collaborating with designers.
Between 1967 and 1971, Ennio Lucini designed the catalogue tor the DH brand, under which lamps for home lighting were marketed.

Logo used from 1974 until today, designed by Advema G&R Associati. This logo embodied the company's entire output, which was marketed under other brands such as DH, Doma and Atelier.
It was during this period that the company began making technical products. Spot and flood lights in particular.