The Ingo Maurer Bulb table lamp and the Giant Bulb table or floor lamp
Vintageinfo – Metalarte lamps
Bulb lamps
Metalarte Bulb Pendant Lamp
Materials: White opal glass globe bulb lampshade. Brass parts. Yellow and white painted metal "socket". Lathe wood top. Porcelain E27 socket.
Cord Length: 60 cm / 23.62"
Height: 45 cm / 17.71"
Width: ∅ 20 cm / 7.87"
Electricity: 1 bulb E27, 1 x 60 watt maximum, 110/220 volt.
Any type of light bulb can be used, but a white or frosted one gives the most beautiful result. Clear bulbs creates stripes on opal glass.
Period: 1980s.
Designer: To be appraised, designed after the classic E27 light bulb designed (not invented) by Thomas Alva Edison (February 11, 1847 – October 18, 1931).
Manufacturer: Metalarte, Paseo de la Ribera 115, Canovelles, Barcelona, Spain.
Other versions: The Metalarte Bulb pendant lamp exists in several colours and was also made with a lampshade above the bulb. The Metalarte logo is pressed in the brass.
It is always said that this bulb pendant lamp from Metalarte is from the 1970s, but that is what everybody also says about the Ingo Maurer lamp (below). It is more likely from the 1980s, given the similar yellow colour.
Many companies produced similar pendant lamps. Another one can be found here on Vintageinfo. Artemide produced the Arianna pendant lamp. A design by Piero Brombin. It appears in the 1976 StudioA catalogue. However, the 1980s pendant lamp designed by Ingo Maurer became the most well known. Probably because he already designed the table and floor lamp in 1966.
Metalarte
The Metalarte company was founded in 1932 in Cannoveles, some 30 km/19 mi from Barcelona in Catalonia, Spain. In the 1960s and 1970s it renewed its catalogue and started working with external designers and companies. For instance, they sold lamps produced by Louis Poulsen from Denmark and Arteluce and Stilnovo from Italy. Today the company is part of the Luxonia group. Together with the Troll and Sagelux brands.
Designers that worked for Metalarte are, among others: André Ricard, Enric Franch, Josep Lluscà, Estudi Blanc, Josep Aregall, Oscar and Sergi Devesa, Antoni Arola, Lievore Altherr Molina, Ricard Ferrer, George W. Hansen, Héctor Serrano, Jordi Llopis, Ana Mir, Emili Padrós, Otto Canalda and Ramón Úbeda.
Artemide 
The Artemide Group is based in Pregnana Milanese, Italy. The company is best known for the Tizio desk lamp designed by Richard Sapper in 1972. The company is also famous for the Tolomeo desk lamp, designed by Michele De Lucchi and Giancarlo Fassina in 1986. Artemide produced many other beautiful lamps en furniture during all those the years.
Designers who have collaborated with Artemide include Mario Botta, Sir Norman Foster, Ettore Sottsass, Enzo Mari, Neil Poulton, Karim Rashid, Giò Ponti and many others.
Ingo Maurer
Ingo Maurer (1932 – 2019) designed several variations of this lamp during the years. The pendant lamp named "Bulb Bulb" (a light bulb in a light bulb) was designed in 1980. The hanging light was designed for the American market, but it was also a big success in Europe. Different colours of light bulbs can be used to change the appearance of the lamp. The original "Bulb Bulb" lamp was made in injection molded plastic.
The most famous "Bulb" table lamp is designed in 1966 by Ingo Maurer and made in two sizes, 30 cm and the "Giant" was 56 cm. The normal size is still in production but only in clear crystal Murano glass. The white opal version is out of production. It was designed after the idea of the over sized examples created by the American pop art artist Claes Oldenburg.
The Ingo Maurer Bulb Bulb pendant lamp is described in 1000 Lights, 1960 to present , page 385. Written by Charlotte & Peter Fiell and published by Taschen. You can find this book over here at Bol.com: 1000 Lights 1960 to present Vol. 2
Artemide Arianna pendant lamp – catalogue StudioA 1976
Ingo Maurer Bulb Bulb pendant lamp or floor lamp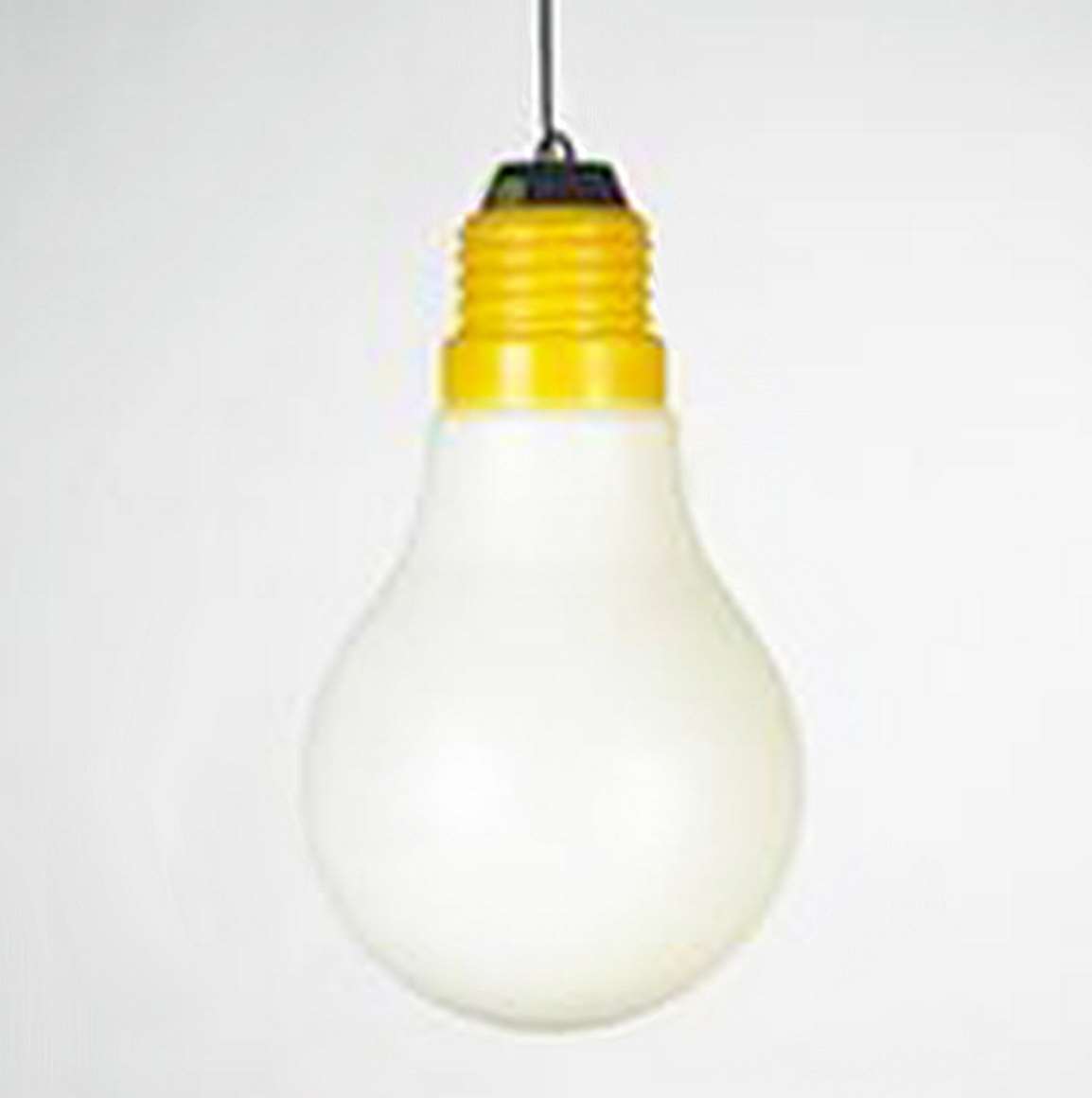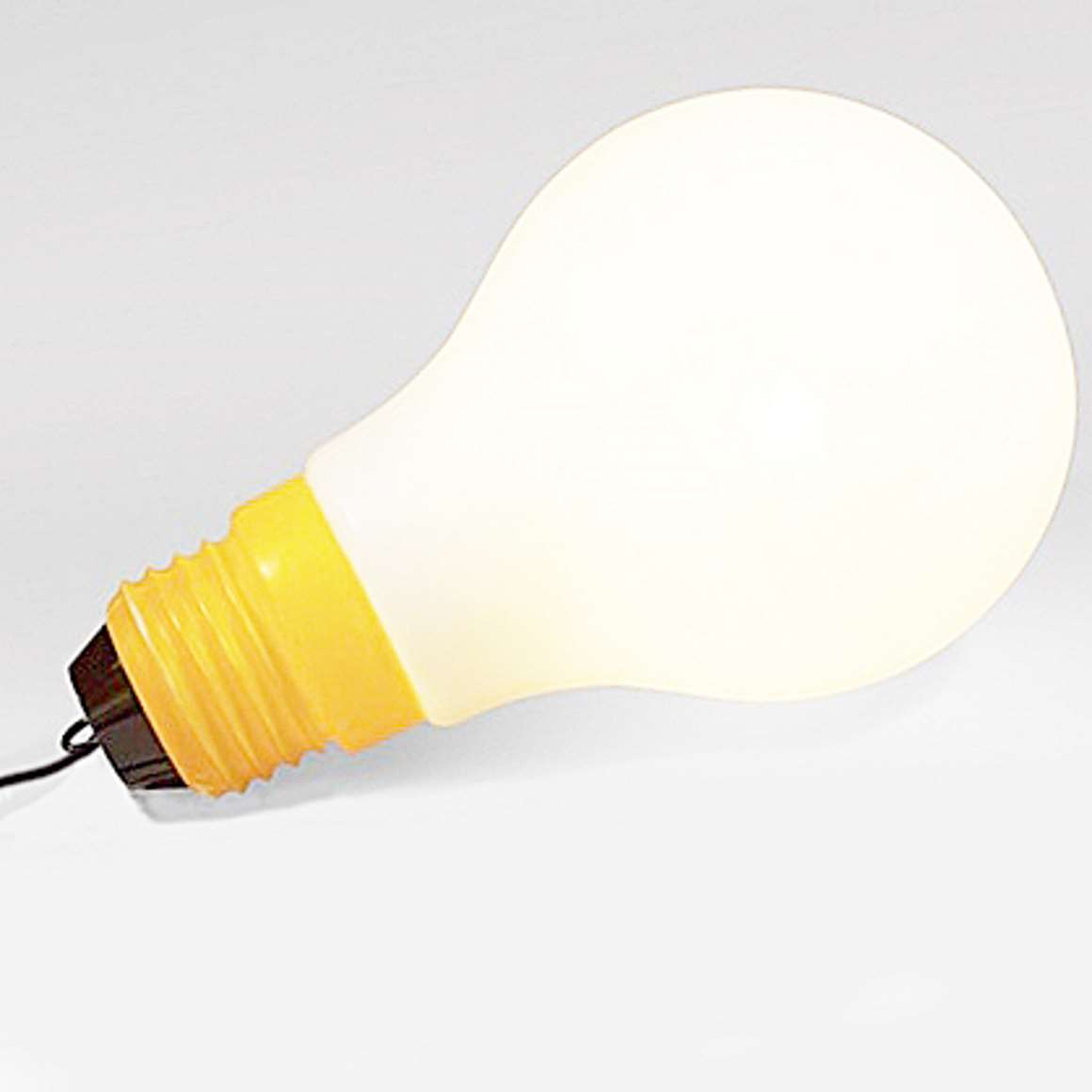 Links (external links open in a new window)