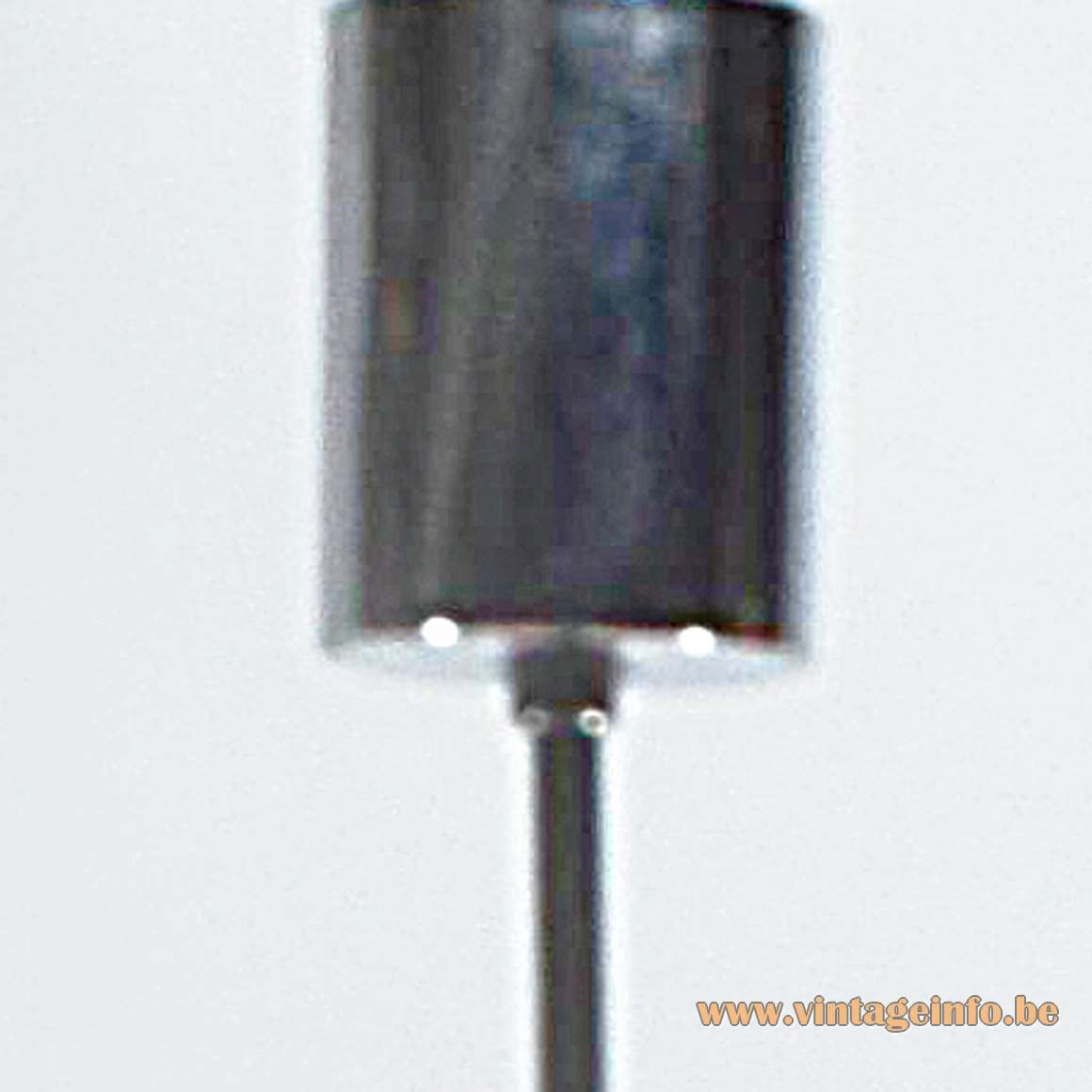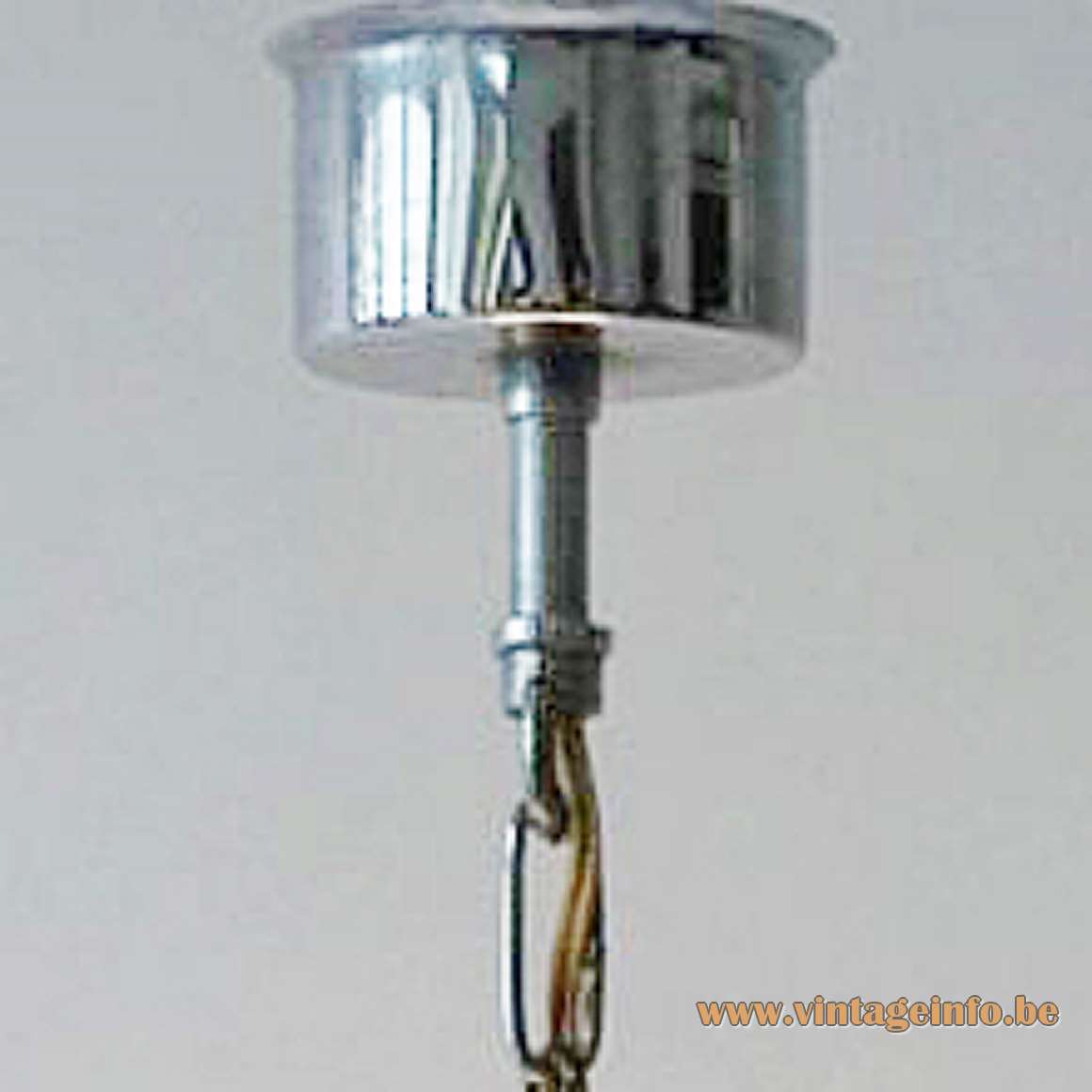 A crystal glass Sputnik chandelier, brand unknown, almost similar to this Val Saint Lambert sputnik chandelier, was used as a prop in the 1976 American British comedy film The Pink Panther Strikes Again. Starring Peter Sellers, Herbert Lom and Lesley-Anne Down. It was smashed in the umpteenth fight between Cato and inspector Clousseau. A table lamp is also destroyed in this scene that was reused in Trail of the Pink Panther of 1982. The film was made after the dead of Peter Sellers and contains many flashbacks.
Val Saint Lambert craftsmen at work
Several Val Saint Lambert Sputnik chandeliers hung in a villa in Brussels, Belgium until the end of 2020.
Many thanks to Hans from Objeta for the beautiful pictures and the enthusiasm.
Many thanks to Eric of Val Saint Lambert for his enlightening information about these lamps. 
Val Saint Lambert Sputnik Chandelier 
Materials: Gilded brass rods and ornamental nuts. Gilded metal globe in the middle. Floral cut crystal discs. Metal rod, chain and canopy. 12 Bakelite E14 sockets.
Chain Length: 60 cm / 23.62"
Height: ∅ 45 cm / 17.71"
Width: ∅ 45 m / 17.71"
Electricity: 12 bulbs E14, 12 x 40 watt maximum, 110/220 volt.
Any type of light bulb can be used, not a specific one preferred.
Period: 1950s – 1970s – Mid-Century modern.
Designer: To be appraised.
Manufacturer: Massive, Mortsel, Kontich and Wommelgem, Belgium. Val Saint Lambert produced the glass parts for these lamps, as confirmed by the company.
Other versions: The Val Saint Lambert sputnik chandelier was also made with a chromed metal (iron) frame. Made in different sizes. Two types of discs: round or flat discs. Hanging on a rod or chain. Wall lamps and flush mounts also exists. Also made in brass plated iron.
Also the other Belgian company S.A. Boulanger sold these lamps. But with slightly different parts. What is most striking is a completely different canopy, as you can see on the left. The Massive label hung on a string, the S.A. Boulanger label is glued inside the canopy, but is often gone (see below).
Designed in the style of the chandeliers Emil Stejnar created for Beleuchtungskörperfabrik und Beleuchtungsglashütten (lighting equipment factory and lighting glassworks) Rupert Nikoll from Austria. But Emil Stejnar has got nothing to do with these chandeliers.
S.A. Boulanger
S.A. Boulanger was founded in Anderlecht, Belgium in 1945. The company is famous for the large amount of lights it produced that were designed by Gaetano Sciolari. At some point in the 1980s the company changed their name in Les Ateliers Boulanger NV.
It has long been thought that they were two different companies, but that is because a trader from Liège, Belgium persisted that the lamps came from Herstal, near Liège.
In 1996 the company had 11 employees. The firm moved in 1998 to the Martelarenlaan 155 in 3010 Kessel-Lo, near Leuven. In the period 1995 – 2001 Jean-Philippe Spalart was the CEO. He did a feasibility study for the transfer of the company to China, Eastern Europe and Africa. Relocation of the manufacture in Zimbabwe.
Boulanger was specialised in metal processing and manufacturers high-end lamps and lighting fixtures. Les Ateliers Boulanger ended business in 2006.
Massive & Boulanger
Massive sold several Boulanger models over the years. The only difference is the typical Massive canopy/ceiling cap and some other parts. As you can see with this lamp.
Old text from the 1990s
"Boulanger sells mainly in the high-end lighting markets in Belgium, Germany and Luxembourg. The growing sales in the US and in South Africa are of growing importance to the company. Due to the highly competitive market, having product with a high added value is very important. The intelligent lamp is an important advantage, compared to our competitors, and will increase our market share in an important way.
The most important local competitors are Massive, a Belgian company, market leader in Europe (turnover of 100 MEUR), Deknudt at Deerlijk (turnover 2.5 MEUR) and some 10 other Belgian competitors of its own size. There is important competition from southern European and Asian competitors. The market share of Boulanger is only a few percent of the share of the Belgian companies. It is a small company with a turnover of about 300 k EURO."
"Most Boulanger lamps are low voltage and halogen lamps (220V up to 300W or 12V up to 50W).
The products are sold to retail shops. In Belgium, about 300 retail shops sell its products. There are around 40 retail shops abroad: Luxembourg, Germany, France and South Africa."
Massive 
Massive was in origin a bronze foundry and they produced mainly candlesticks, crucifixes and chandeliers in Wilrijk near Antwerp, Belgium. The company was founded in 1926 by Pieter-Jozef De Jaeck. His son Eddy De Jaeck was responsible for the huge expansion of the company in the 1970s. But it were his sons, Piet and Jan De Jaeck who made Massive a true multinational. Thus, they moved production to Eastern Europe and China.
In the 1980s Massive became the leading brand in Europe. In 2002, the brothers left the company to the investment fund CVC Capital Partners, for allegedly more than 250 million euros. 
Since 2008 the company is owned by Philips and the name of the shops is changed into Light Gallery.
When the takeover by Philips was announced in November 2006 Massive commercialised more than 10.000 lighting products under brand names such as Massive, TRIO and Lirio. The group had about 5.000 employees worldwide and was active in 70 countries.
Val Saint Lambert
Val Saint Lambert is a crystal and glass factory in the Belgian city of Seraing, southwest of Liège, which produces decorative glass, glass and crystal arts and crafts. The factory is located in the abbey of Val Saint Lambert, the former Cistercian abbey of Saint Lambert. In 1826 the founders of the crystal factory settled in the favorable site, due to the large buildings available, the proximity of coal and the possibility of transport across the river Meuse. Today Val-Saint-Lambert is present in more than forty countries. One can visit the factory and see glass blowers at work.
Val Saint Lambert or Val St. Lambert was founded by chemist François Kemlin and polytechnic (Master of Science in Engineering) Auguste Lelièvre in 1826. François Kemlin had previously worked for the Vonêche crystal works in the Ardennes, also in Belgium. Val Saint Lambert is well known for its Art Nouveau and Art Deco glass pieces.
The earliest design of this chandelier dates back from the 1950s, when the Soviets launched their Sputnik 1 satellite into orbit (1957): the space age has begun. 

Yuri Alekseyevich Gagarin (9 March 1934 – 27 March 1968) was the first human to journey into outer space, when his Vostok spacecraft completed an orbit of the Earth on 12 April 1961.