Limburg Glashütte Bubble Glass Garden Wall Lights
Condition: In perfect condition.
Materials: Aluminium alloy, brass, stainless steel, crystal smoked mouth blown bubble glass, metal sockets.
Height: 48 cm – 18.89"
Width: 41 cm – 16.14"
Width globe: 35 cm – 13.77"
Electricity: 3 bulbs E14 – 3 x 40 watt – 110/220 volt.
Any type of light bulb can be used, not a specific one preferred.
Period: 1970s – Mid-Century Modern.
Designer: To be determined.
Manufacturer: Glashütte Limburg, Glashüttenweg 1, 65549 Limburg an der Lahn, Germany. BEGA Gantenbrink-Leuchten, Menden, Germany.
Other versions: Made in different colours and sizes. Also made as a street lamp and a garden light.
Glashütte Limburg is a member of the Bega group. The company still exists and they make beautiful (industrial) lighting. www.glashuette-limburg.de,  www.bega.de Bega North America: www.bega-us.com.
Other Glashütte Limburg lights on Vintageinfo.
(external links open in a new window)
One of the best known designers for Glashütte Limburg was Helena Tynell who created several amber bubble glass lights for the company. They exist in many forms and sizes. Helena Tynell lived from 1918 until 2016. She was married to the famous designer Paavo Tynell (1890-1973).
Spare parts can still be ordered for these lights. These lamps can be used inside or outdoors (IP 44).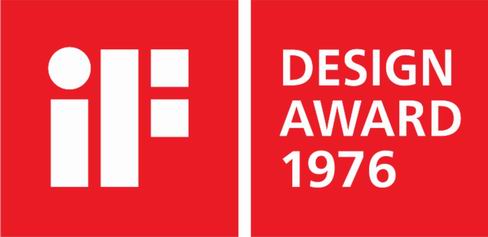 The Bega wall light model 5054 won the iF Design Award in 1976.
White version spotted somewhere in Aachen in 2015 (Germany)